ADVERTISEMENT
Lleida information
Seu Vella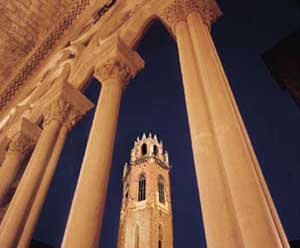 The visit to the monumental complex of Seu Vella plateau will allow you to have magnificent views of the city from "llengua de serp" or Baluart de la Reina.

The castle -as it is lovingly called by the people from Lleida- is, from its privileged position, the most remarkable landmark of the city

According to some historians, the building works of Seu Vella started in 1203 under the guidance of master builder Pere de Coma on the grounds of a former Muslim mosque. Devoted to Saint Mary, the temple was consecrated in 1278. Its building works were never interrupted and in the 14th century the cloister was completed.

During the 14th century the bell tower was begun to be built and its building works went on until 1431. It was designed as a basilical three-aisled Latin cross plan. Inside the temple we can also find outstanding features, like the sculpture in the naves, which shows the influence of the Tuscan, Toulousain and Provençal workshops which worked on it throughout the 13th century, as well as the mural painting remains, which belong to the Gothic period.


The Doors

The access to the architectural complex is by the Porta dels Fillols, situated on its southern side. On the meridional wall five monumental doors make up a clear example of late Romanesque architectural sculpture by the so-called School of Lleida.

The western door or Porta dels Apòstols, which gives way to the cloister from the outside, was started in the 14th century and finished during the 15th century. At the top of this monumental Gothic door there was Verge del Blau, which is now placed in the Catedral Nova.


The cloister

Situated in the western part of the cathedral, it is one of the most peculiar cloisters in the country. Rectangular-shaped, its naves are divided in five parts with pointed vaults and large elegant openworked windows overlooking the outside from the southern gallery and offering a great view over the city and its Horta.


The belltower

Seu Vella bell tower has 7 bells. Two of them are Gothic in style and were built in the 15th century; their names are Silvestra, which tolls the hours, and Mónica, which tolls the quarters.The other five are electric bells from the middle of the 20th century and they mainly have a liturgical purpose. Their names are: Crist, Purísima, Bárbara, Meuca and Marieta.

Lleida guide