ADVERTISEMENT
Barcelona information
Gran Teatre del Liceu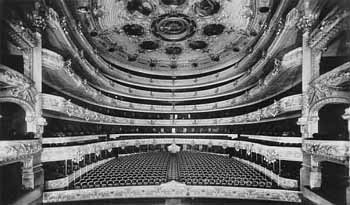 The Gran Teatre del Liceu, contrary to other opera houses, was built with private contributions instead of governmental funds.

It opened on April 4th 1847, with a varied program of symphonic pieces, operas and plays. On January 31st 1994 a fire once again engulfed the Grand Liceu theatre.

As in 1861, when it was set on fire for the first time, only the foyer and the horseshoe arch remained intact. The response from the regional governments and population as a whole was swift and to the point: there was a need to rebuild it on the same site as soon as possible. The new theatre was reopened in October 1999.

The most important works by Mozart, Rossini, Verdi, Wagner, Puccini, Strauss, etc. have been sung at the Liceu by the greatest voices of the last two centuries.

Domingo, Pavarotti, Caballe, Callas, Tebaldi will always have a special place in the hearts of the audience. In the last 25 years, a lot of younger people have become fans of these works and regularly attend the performances at the Liceu.


Address:

La Rambla, 51-59
08002 Barcelona

Web:

www.liceubarcelona.com

Metro:

Liceu
Barcelona guide